Leather Cleaner Barnsley
If you are looking for a Leather cleaner Barnsley you have come to the right place. I will deep clean your leather sofa using the finest leather cleaning products specifically suited to your type of letter. Then I will professionally apply a leather protector that is also matched to the sort of leather your furniture is made of.
Keeping your leather couch or chairs clean and looking great is just half of the story though. The biggest complaint I hear about leather furniture is that is does not last long.
Leather Cleaner Barnsley
Now what exactly does that mean? Well it seems that a lot of people think that once the colour starts to fade, the leather sofa has had it's days. They go off to the furniture shop and spend more thousands of pounds on another leather suite that will be in the same condition in a couple of years.
It does not have to be like this! Leather cleaner Barnsley will deep clean your sofa, but what if the colour has rubbed away already?
How often should I clean my leather sofa?
Your leather sofa is usually protected by a polyurethane coating before it leaves the factory. This will not last very long. In fact, about one year of use in a normal household will see the leather protector rubbing away. This exposes the pigment or paint.
The paint will start to rub away quite quickly once the protective coating is worn through. We suggest that you have your leather sofa cleaned and protected once a year.
But don't worry. If the colour has worn away already, we can repair that for you. The trick is, not to let it get that far next time. It is more expensive to fix the worn out colour on your leather sofa than just keeping up with a leather clean once a year.
Leather sofa recolouring
In most cases it is just the colour that has rubbed away. The leather sofa is still in good condition, even if it does look shabby at the moment.
Why has this happened? Well to understand why the colour fades from leather furniture we need to understand a little about the process. Believe it or not, that leather couch did not come off the cow in blue!
The leather passes through the tannery and after various process the hide is coloured. It has base coats and then a top coat. This top coat is pigment, we can call it paint. If the leather is left like this the paint will rub off in no time.
So the hide is finished with a protective coating. Usually two or three coats of polyurethane is applied to the top coat to give the leather a good deal of protection from people getting on and off of it.
For more information or free advice on Leather cleaner Barnsley, call or email us at any time. We are here to help and we are local. Cleaning leather in Doncaster and Barnsley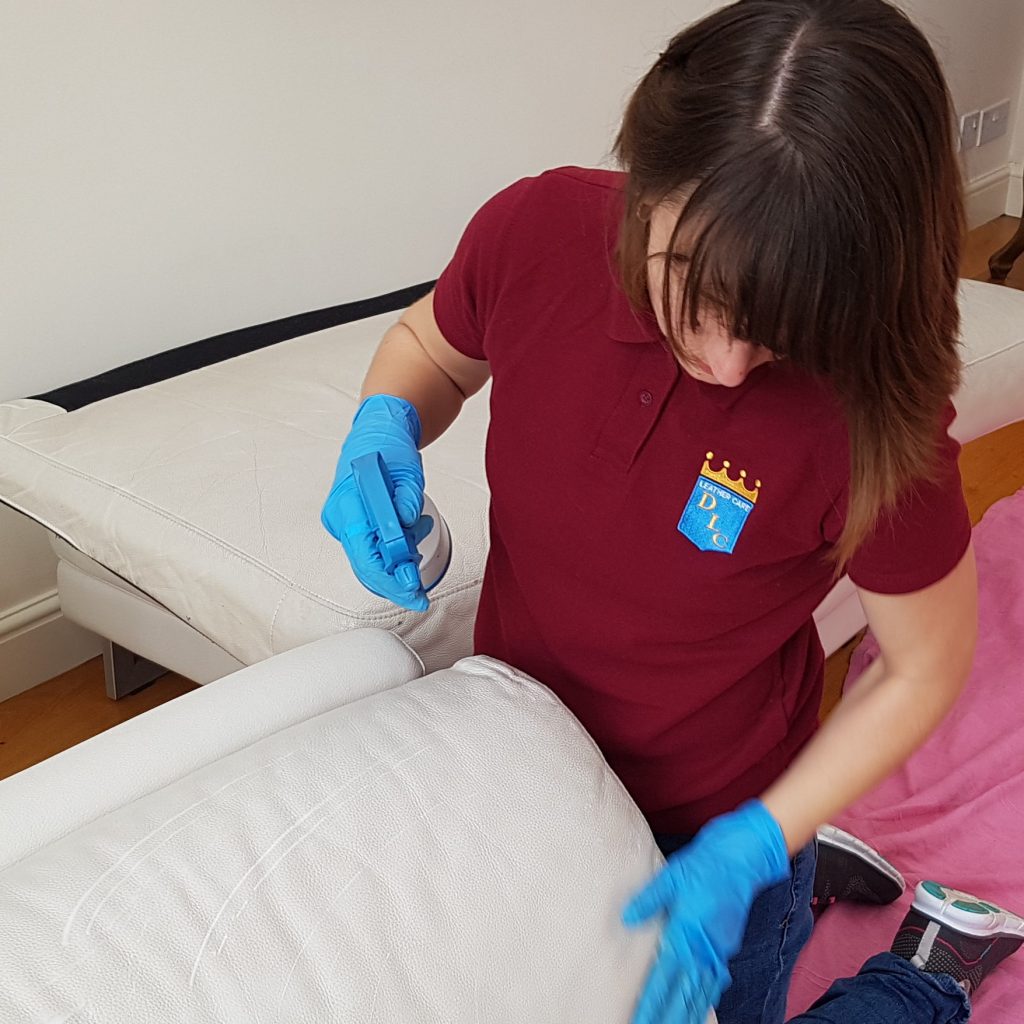 Leather cleaning in Barnsley and Doncaster